Stirrers and tanks for perfumes and other types of product
We design and manufacture mixers and tanks for use in a variety market sectors such as the cosmetics industry, the production of detergent pastes and formulations at various grades of density for dedicated applications.
The Cologno Monzese (Milan) company was incorporated as a limited liability company in June of 1996 where it began its activities focusing on the production of inert products for the chemical-clinical diagnostics sector.

Following the acquisition of Menoni  Italo, a leader in the production of mixers and stainless steel tanks since the 1960s, Me.dia S.r.l. went on to gain solid experience over the years thanks to the continuous striving for quality in its design and manufacturing activities.
With its team of highly-qualified, vastly-experienced staff, Me.dia S.r.l.offers products and services to industrial and craft companies preparing solutions and mixtures with different densities up to the production of semi-solid pastes. The use of devices for the fine adjustment of the operating temperature, heating and refrigeration of preparations broadens the equipment's range of usage possibilities.
The equipment is made to very high safety standards in conformity with ATEX standards, , using the very highest quality materials.
Production of cellulose acetate membranes for electrophoresis
Me.dia S.r.l . continues to be the point of reference for the production of cellulose acetate membranes for electrophoresis in the field of chemical-clinical diagnostics.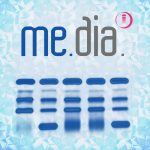 The membranes are widely used for electrophoretic analysis of serum proteins, haemoglobins, lipoproteins and in typing serum monoclonal components.
Contact us for more information